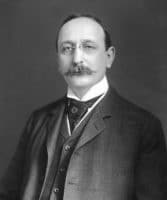 Cass Gilbert (1859-1934) designed seven New York City landmarks between 1900 and 1934, among dozens of his notable works of architecture across the U.S.
← 1907 photo in Minnesota Encyclopedia (source: Wikipedia)
While best known to New Yorkers for the Woolworth Building, Gilbert also designed the Capitols of Minnesota, Arkansas and West Virginia, and the U.S. Supreme Court in Washington, D.C.
Born in Ohio, Gilbert rose to prominence in Minnesota when he was selected to design the new State Capitol in St. Paul. His Brazer Building in Boston led to a commission to his first New York commission, the Broadway Chambers Building. During that building's construction, Gilbert moved to New York.
(Don't confuse Cass Gilbert with his son – Cass Gilbert, Jr. – or with C.P.H. Gilbert. Cass Gilbert, Jr. supervised completion of the Thurgood Marshall US Courthouse that his father designed before he died. C.P.H. [Charles Pierrepont Henry] Gilbert is best known for mansions and townhouses.) Trivia: Cass and C.P.H. do have a connection, via Frank W. Woolworth: Woolworth hired Cass to design the Woolworth Building, but hired C.P.H. to design his personal mansion.
Cass Gilbert Representative Buildings
Cass Gilbert Suggested Reading