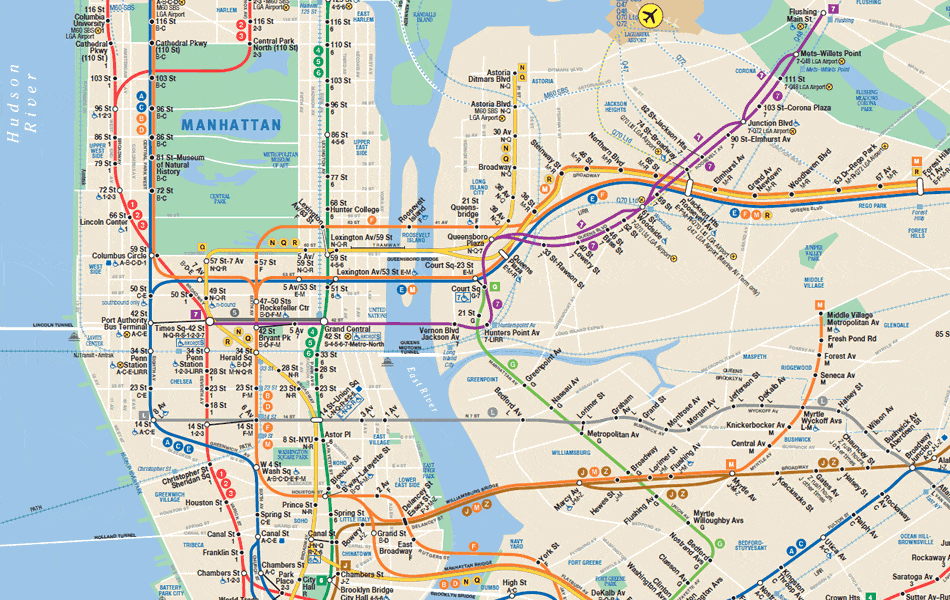 When exploring and photographing the Big Apple's architecture, subways are generally the best way to get around town. The ride to any point in the city is only $2.75 – a bargain compared to taxis, vans or car services, and often faster, too. You may have to stand, it may be crowded at times, but if you can follow a map this is the way to go.
For current fares and discounts, visit the MTA (Metropolitan Transit Authority) website. Current maps are also online to view or download at www.mta.info/nyct/maps/submap.htm; there are also subway and bus map apps that you can download to your smart phone. Old-fashioned paper maps are available at station booths for free – and they're probably more up to date than maps sold in stores. You'll also find permanent (stationary) maps at subway entrances, on many platforms, and on every subway car (one near each end).
But beware: MTA does most of its maintenance on weekends, so there are many service interruptions and re-routing from late Friday night through early Monday morning. You can get up-to-date information at http://travel.mtanyct.info/serviceadvisory/. Also be aware that some lines don't operate on weekends – the B train, for example, runs 6 a.m.-11 p.m. weekdays only.
New York City buses are not for anyone in a hurry, but they do let you see more of the city if you can get a window seat. For example, the M5 bus runs from South Ferry all the way up to 179th Street and Broadway, including a 63-block stretch along scenic Riverside Drive. Weekdays, M5 runs Limited-Stop (faster) service. The M4 bus operates between 32nd Street and The Cloisters Museum/Fort Tryon Park. You can get bus maps at the MTA website, but getting a paper map is a little trickier, because buses don't usually carry any maps. There's no system-wide map; each borough has its own guide.
If your visit takes you to the Battery/Financial District, make a quick stop at the MTA Customer Service Center, 3 Stone Street, in lower Manhattan between Broadway and Broad Street. You can get ALL bus and subway maps there. The center is open weekdays, 9 a.m.-5 p.m. [map] The R train Whitehall Street station has an exit right on the corner (contrary to Google map, the N train no longer stops there); the Bowling Green station of the 4 and 5 trains are also close by.