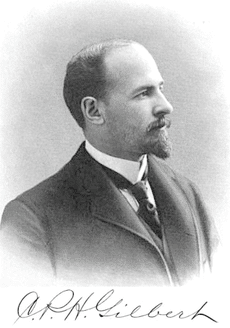 C.P.H. Gilbert (1861-1952), is best known for his lavish mansion and townhouse architecture for New York's wealthiest citizens. Charles Pierrepont Henry Gilbert, a native New Yorker, studied engineering and architecture in the U.S. and abroad, including at the École des Beaux-Arts in Paris. Gilbert initially designed buildings in Colorado and Arizona, but returned to New York in 1885.
(portrait photo source: Wikipedia)
C.P.H. Gilbert designed more than 100 mansions in Brooklyn and Manhattan, several of which are designated New York City landmarks. A few of his Fifth Avenue mansions have been converted to institutional use – notably the Ukrainian Institute (former Harry F. Sinclair House) and the Jewish Museum (former Felix M. Warburg House).
Don't confuse C.P.H. Gilbert with Cass Gilbert. Cass Gilbert is best known for monumental commercial and civic architecture. Trivia: Cass and C.P.H. do have a connection, via Frank W. Woolworth: Woolworth hired Cass to design the Woolworth Building, but hired C.P.H. to design his personal mansion.
C.P.H. Gilbert Representative Buildings
Three adjoining mansions at the foot of Riverside Drive: 311 West 72nd Street, 1 Riverside Drive and 3 Riverside Drive for Philip Kleeberg (mid-1890s)
Ukrainian Institute (former Harry F. Sinclair House) (1899)
Cushman Building, Broadway and Maiden Lane (1899)
Edmund C. Converse residence, 3 East 78th Street (1900)
Polish Consulate General, Madison Avenue and 37th Street (former Joseph Raphael De Lamar House) (1905)
Jewish Museum, 92nd Street and Fifth Avenue (former Felix M. Warburg House) (1908)
Convent of the Sacred Heart, 91st Street and Fifth Avenue, with architect J. Armstrong Stenhouse (former Otto H. Kahn House) (1918)
C.P.H. Gilbert Suggested Reading